Automation and digitization: The critical drivers of remote productivity and performance
As more employees turn to remote or hybrid work environments, companies of all sizes must recognize the urgency to digitize and automate manual-based processes—especially those that require on-site collaboration. These opportunities go beyond basic digital capabilities. They often require major changes in an organization's business strategy and tech infrastructure.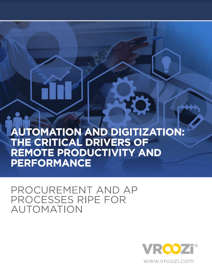 Learn how to identify procurement and ap processes ripe for automation and discover opportunities for digitization to boost your business model, leading to higher productivity, better performance, and more ROI.

Download Automation and Digitization: The Critical Drivers of Remote Productivity and Performance now!