Procurement checklist: How to boost employee adoption
The adoption of new technology is a vital key to procurement success. When workers continue to use outdated, sluggish, or bloated processes and direct-supplier e-commerce sites, they're often forced to pay higher prices for products and services. Why? Increased labor costs surrounding paper-based processes, input errors, rogue spend, and more.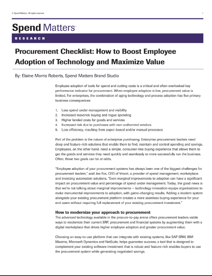 Low employee adoption can severely hinder the value of procurement. This can lead to serious consequences for businesses, including:
Less control and visibility.
Increased maverick buying and rogue spending.
Higher landed costs for goods and services.
Higher risk levels caused by purchases with non-authorized vendors.
Lower efficiency caused by paper-based and/or manual procedures.
Utilizing the right tools for spending and cutting costs is a critical key performance indicator in the area of procurement. Learn how to get your employees involved. Download the checklist now!